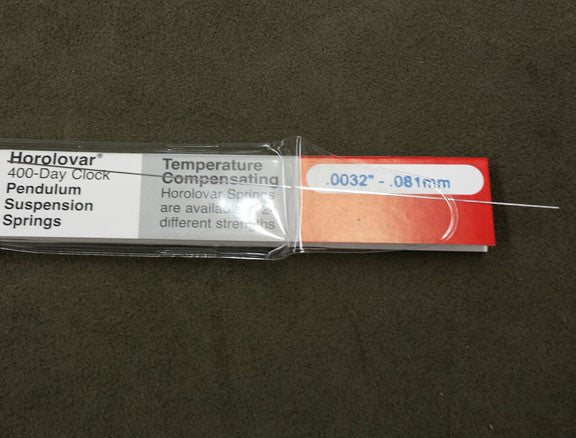 Suspension spring material
$2.50
Temperature compensating spring material
Use dropdown menu to choose thickness. Springs are sold as each. If you order one, you will get one spring. There is a price discount when you order 3 or more and you can mix the spring thickness for this discount. This is only the spring. You will cut it to length and attach the blocks and fork. If you are missing any of the blocks or fork we sell them seperately. The thickness, color or width of your original spring is not of concern. These springs are made of a new, temperature compensating material and they may not look like the originals. Temperature compensating means the will help the clock keep better time than it did with the original spring material. Send us an email if you need help.
.0032 Full size Kieninger & Oberfield, Full size Kundo (usually about 12" tall)
.0023 Miniature K & O & miniature Kundo (usually about 8" tall)
.0023 Schatz "53" on back-plate (miniature)
.0040 Schatz with "49" on the back-plate
.0024 Schatz 1000 day, "54" stamped on the back-plate.