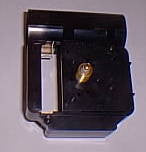 Chiming movement, non pendulum type, for 5/8" thick face
$29.99
The most popular chime movements on the market today. Plays progressive Westminster chime every 15 minutes: 4 notes at ¼ hour, 8 notes on the half, 12 notes at ¼ till and 16 notes with hour strike on the hour. Powered by one "C" cell battery (not included).
Dimensions: 3" wide x 3-3/4" high x 1-1/4" deep. 7/16" diameter shaft. 
The threaded portion of the hand shaft is 11/16" long and the total shaft length is 1".
Built in speaker on top of the movement inside the tube. For dials up to 5/8" thick.
Face thickness is how thick the material is that the hand shaft goes through.
Click here for installation instructions
Get a free pair of hands (up to 5-1/4" long) with purchase of a quartz movement. One free pair with each movement you buy.  Choose hands and put them in your shopping cart: 
https://norkro.com/collections/hands-for-quartz-clocks